Our family lived in the same small town for nearly 17 years. I had lived there longer than any other place in my life so that says a lot. And in those 17 years we had managed to accumulate a lot of stuff. I am a pack-rat, a hoarder, a lover of keepsakes. My husband has to throw away anything from the fridge that is passed it's used by date. I can't. I just can't. But upon selling our house in Inglewood and looking ahead to packing, storing and moving, I took a good long look at all the stuff in our life from those 17 years. And I didn't like it. Any of it. I filled the wheelie bin week after week as I chucked, discarded and pruned our life back to the bare minimum. Anything worthy of being kept but by someone else either went to Hospice or I sold it.
Thus began my love-affair (okay, not quite the beginning, but it sounds good) with Trade Me, our national auction site along the lines of Ebay. I listed everything I no longer loved for $1.00 and watched it all walk out the door.
It was so satisfying.
We pared our possessions back so that they filled every square centimetre (just ask my husband the mathematician who looks forward to packing our van for camping every year as a challenge of which only he is worthy) of a three metre by three metre storage container. Then we hit the road with our worthily packed van for a holiday.
Upon our return we reclaimed our 9 cubic metres of possessions and moved into our rented house in the city, where we are living now. Paul and I slept on the floor for six weeks because we'd sold the bed I no longer loved. Our eldest was on a roll-away bed. We watched TV from the bean bags having sold our lounge furniture. We ate dinner off the arts and crafts table and sat on borrowed chairs. It was a bit like flatting again when you're newly married and broke. An adventure and a challenge. And it was just short term until our house was built and we could move again. We were living in the in between and we could get by with that. It didn't make sense to buy stuff and then shift it again in a few months.
But there is only so long you can live your life in the in between. Soon I began to look for new things, to get a sense of what I wanted in our new house. Just looking of course.
Pretty soon there was a new couch in our family room. And two high-backed chairs in our living room. All on sale so it made sense. Perfect sense. And sleeping on the floor grew old very quickly.
The thing I didn't replace straight away was the dining table and chairs. I was determined we could continue to make do there. However I did begin to look at different ones in order to narrow down which style I preferred.
I've grown to love pre-loved, well-made furniture at a bargain price. Our buffet falls into this category as well as our china plates and teapot. These are treasured items in our home. It is also very therapeutic to find pretty things and make them prettier. During a difficult time in my life, I learnt the techniques involved in restoring furniture and how to apply different paint finishes. I experimented with chalky paint and dark wax. It was extremely satisfying and I found my niche. Plans are already afoot for a workshop in the new house. My cave, not a man-cave.
So when our man-child became unwell earlier in the year we found ourselves in the wilderness again. A perpetual state of waiting. Waiting for appointments, waiting for tests and waiting for results. Then still more waiting for a plan.
It was excruciating.
Paul periodically absented himself from the wilderness by going to our section and building two retaining walls. This was no small project, but it was a therapeutic one. And I was so jealous. I had no project and no space in which to do one anyway, until a friend suggested I find something small that I could work on.
Back to my beloved Trade Me where I found two stools, a small table and an adorable cabinet. All pre-loved, all pretty and all requiring some upcycling. Those projects got me through the worst wilderness days and I am so thankful for that simple but much-needed suggestion. Besides which, shopping itself is therapy.
But in that time of scouring Trade Me and Pinterest for projects and ideas, I began to narrow down exactly what I wanted in a dining table for our family. While there were a lot of elegant and vintage styles I loved and became very familiar with words like mahogany and queen Anne and pedestal, I knew that our dining table had to convey a very particular message which wasn't quite achieved with these styles. Quite simply, our new table had to convey the word welcome.
Welcome to the table and share with us.
When you have a child who becomes unwell, the very first thing that can happen is that you feel isolated and alone. For a start, you find yourself at the mercy of the medical system and all of it's bureaucracy. Second, your well-meaning and loving friends just do not know what to do with you. And you'll be the first one to admit you're not much company anyway so you don't blame them when they think the best idea is to give you space. You cannot plan, you cannot invite and you cannot even fathom what the next day might look like.
But we have been blessed. While still feeling isolated at times, simply from the knowledge and overwhelming feeling that no one else can wear these shoes for us, we know that we have not been alone.
We have a community holding us up and for that we are very grateful.
I admit there was a time I shut up shop on the whole idea of community. I had been used and abused and not only did I think our table would only ever seat my family alone, I had planned to build very big walls around our new house. Thick and high walls. An impenetrable fortress.
But that's just not me and definitely not how I want to live. My community knows that too and they have patiently waited for me to heal, to grow and to know it too.
So I pursued a table to symbolise welcome with a passion which bordered on obsession. Something like this was my goal: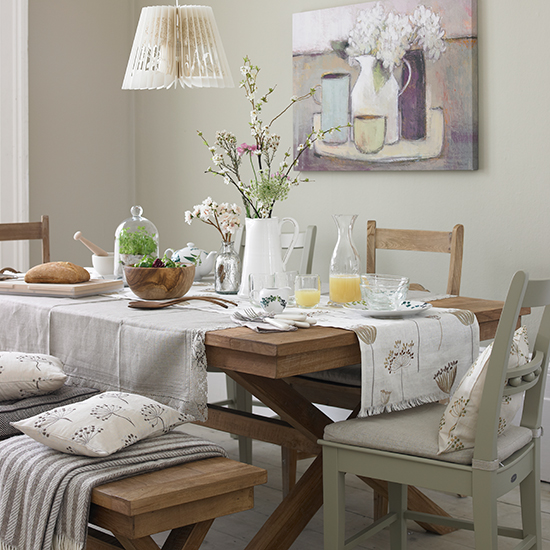 Or this:
I decided upon a farmhouse table and occasionally I even found one but it would be too small or too expensive or too broken. Which was okay since I was determined to make do until we moved. A table is a very big and heavy thing.
This week I found my table. An old, planked, knotted, wood-splitting, carved-legged, orange, pine farmhouse table that has so much history it's been extended to accommodate a growing family and then neglected as the family has grown up and moved away.
Now we are the table's new family. I will eventually refurbish it but for now it is just right in all its orange knotty two metre long brilliance. It is the table around which this family will grow and laugh and cry and share our stories. And even though it was not logical to buy this table now when we are only a few months away from moving again, and because most often there is only five of us seated at it, it is necessary.
The table reminds us that we are still six; in fact, we are more than six. And that the more than six of us will gather together around this table soon.
And often.